Small Machine – Big Results
Sencorp 2200 Series Thermoforming Machine
Sencorp brand Thermoformers are recognized as the work-horse machine for producing blister and clamshell packaging. Sencorp's 2200 in-line Thermoformer is ideally suited for medical tray packages, pharmaceutical blisters, electronics and consumer goods.
Industry leading available features include automatic chain rail tensioning and adjustment, 72-inch, 26-zone radiant quartz oven, servo form press with 5-inch platen travel (top and bottom), 60-ton trim press, thermal imaging scanner with closed-loop oven control, and Siemens® Step-7 power and controls.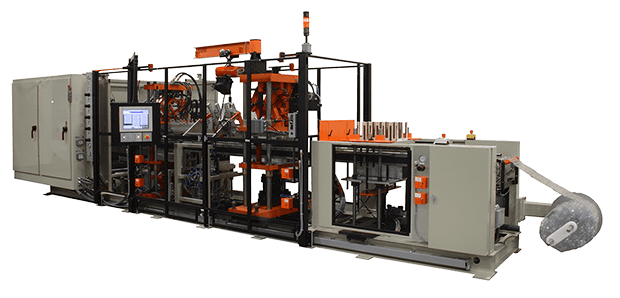 Fully Customizable
Our Thermoformers are fully customizable. Each machine is tailored specifically to meet our clients unique needs.
Unparalleled Performance
For more than 40 years, Sencorp Thermoformers have been recognized as the workhorses of the packaging industry.
Completely Modernized
Newly updated, our Thermoformers provide unparalleled performance with sustainability in mind.
Superlative Engineering
Our unrivaled, quality engineering is the key to why our Thermoformers are the best on the market.